[CPD webinar] How to Unlock Hidden Capacity in Your Practice
Are you too busy with client work to think about what's next for your practice?
08 June 2022
•
1 minute read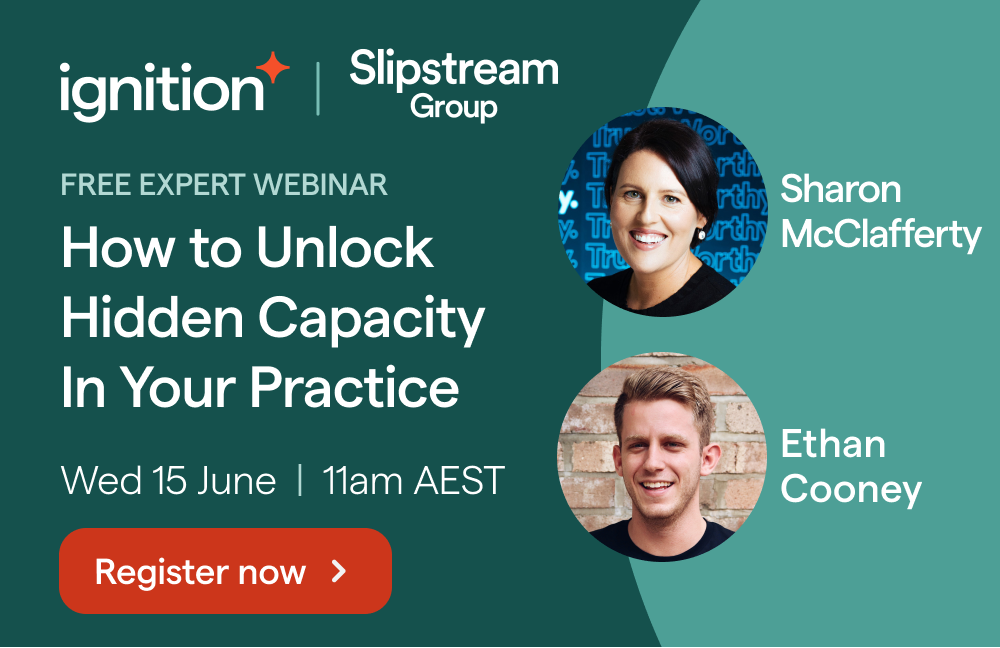 Wed, 15 June  |  11am  AEST
Join us to hear from industry expert Sharon McClafferty—Founder & CEO of Slipstream Group—and Ethan Cooney—Senior Partnerships Manager, Ignition—as they share strategies you can employ to create capacity in your accounting practice, increase your profit per principal, better manage scope and engage your team.
Register for this free, CPD webinar to learn how to:
Set client expectations

and build a firm that scales

Eliminate scope creep

to ensure you're getting paid for every piece of work

Structure your org chart

to ensure the right staff are doing the right work

Hire and retain

the best talent for your accounting practice
We hope to see you there! 
>> Register for this free CPD webinar <<
---
About Ignition
Ignition is the world's first client engagement and commerce platform for professional services businesses, to streamline how they engage clients and get paid. Over 5,000 accounting and professional services firms around the world use Ignition to win new business with impressive digital proposals, engage clients with a clear scope of work, and get paid on time by automating payment collection. Ignition also integrates with leading business apps such as Gusto, QuickBooks, Xero and Zapier to automate time-consuming tasks. Founded in 2013 by a progressive accounting entrepreneur to find a better way of doing business, our goal is to help customers grow, be more efficient, and create win-win client relationships. To date, we've helped facilitate more than 2 Million client engagements and over US$2 Billion in client payments. Practice Ignition has teams in Australia, Canada, New Zealand, The Philippines, South Africa, US and the UK, with over 150 employees globally.
To learn more visit ignitionapp.com