It has been almost two years but regular airline travel is finally available to the general public. The gates are opening, quarantines are closing and airlines are providing big incentives to get passengers back in the air.
Qantas in particular has announced a raft of frequent flyer additions, with points only planes, new routes, increased availability and flexible bookings. It's great news for individuals such as B2BPay clients who have seen a surplus of Qantas points stack up over this COVID period.
But if you are looking at your treasure chest of points and already have the next family holiday mapped out, we suggest you get in quick. As whilst Qantas is providing additional availability, it is being snapped up fast. 
On the other hand if you are yet to start building your points portfolio, we've got you covered. In this article we will break down the key techniques you can use to earn enough points to travel from Sydney to London in no time. 
Regardless of your situation, there has never been a better time to start or continue to build your points, as we see a revival in the value of frequent flyer programs and other points based incentives.
Is It Too Late To Grab A Deal?
Qantas recently announced plans to release "up to 50% more reward seat availability on Qantas international, trans-tasman and popular domestic routes until the end of 2022". These extra tickets came online from October 19 and savvy travellers have already started taking advantage. 
Oliver Writh, Qantas Loyalty CEO stated that over seven billion points in flights had been spent since flights going on sale with many more available. "This is our way of thanking our frequent flyers for their ongoing loyalty". 
Even with a considerable surge of loyalty program spending, there is still a huge amount of deals available to the loyalty program members. However, the best value options such as the Classic Reward seats are being purchased fast. 
What Are Classic Reward Seats?
These types of airline seats are made available to purchase by Qantas for the smallest amount of frequent flyer points and therefore can be quite difficult to book. Usually there is only a limited number allocated per flight but as mentioned earlier Qantas has increased its annual capacity by a further 50%.  
Before COVID hit, on more popular routes travellers would often have to book up to 6 months or a year in advance to get their hands on a Classic Reward seat. But with limited travel, additional allocation and slow growing consumer demand - there is still a wealth of tickets on the market. 
It is important to note that once these seats are booked you can still purchase airline seats using your points, but it will cost you the cash equivalent, without any discount. This means you could end up paying three times more in points for the same flight. 
To make things even more attractive for Classic Reward bookings, Qantas is now offering flexible dates and cancellation until 28 February 2022, simply book:
An Australian domestic or trans-Tasman Classic Flight Reward before 28 February 2022 and you can change or cancel your booking free of charge until 28 February 2022

An international Classic Flight Reward before 28 February 2022 and you can change or cancel free of charge until 31 December 2022.
If you have the points and want to travel sometime in 2022, then taking advantage of one of the Flexible Classic Reward seats is a win-win at the moment. 
Just How Much Do These Flights Cost?
To give you a bit more context as to the enormity and immediacy of these new Qantas offers we have broken down some common flight routes and their current points value (one-way classic reward flights).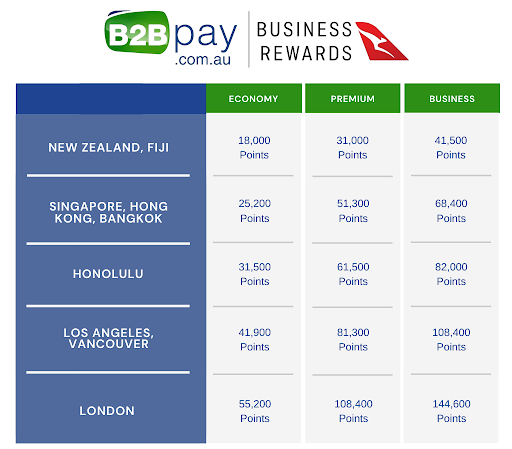 How Can I Quickly Build My Points Up?
There are many ways you can quickly build up enough points to enjoy these deals before they are gone, such as signing up to B2Bpay or taking on a Qantas rewards affiliated credit card.
We have broken down three quick ways you could start to earn or consolidate your points in time to take advantage of these new offers.
Does your company have a few end of year invoices to chase up? Maybe there are some final expenses to be paid? Well before you rush to pay them, consider signing up to B2Bpay and taking advantage of the following reward structures:
1 Qantas Point for every $7 paid by card to the ATO

1 Qantas Point for every $10 paid by card to other billers

1 Qantas Point for every $3 paid by bank account

Up to 3 Qantas Points per $1.50 paid to

B2Bpay Bonus Billers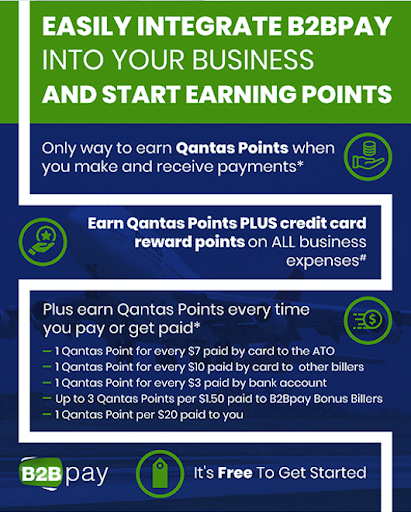 2. Receive Payments With B2Bpay
B2Bpay helps you earn points even when receiving payments. For no extra cost you can set up payment options that allow you to accept credit card payments online and get rewarded. 
It is as simple as connecting B2Bpay to your accounting software and invoicing as normal. You then earn 1 Qantas Point for every $20 received. And for a limited time there is also a promotion offering 10,000 bonus Qantas Points for the first $10,000 received. 
You can learn more about accepting payments with B2Bpay and the various benefits available to customers here. 
     3. Apply for a Qantas Points Earning Credit Card 
Not only do reward credit cards offer an average of 1 Qantas Point to every $1-3 spent, they also provide considerable sign on incentives with up to 130,000 points for new cardholders. 
Check out just two examples below of a NAB Qantas Rewards Signature Card and the ANZ Frequent Flyer Black. Signing up to either of these cards would give you enough points to snap up a current Classic Reward seat, business class to Honolulu.
     4. Stack your Card and B2Bpay
By paying for business expenses through the B2Bpay platform you can compound the value delivered by your credit card. 
We have broken down an example for a business incurring $20,000 in expenses per month that has implemented this strategy. You can see how in just one year they could afford to purchase 14x return Business flights from Sydney to Melbourne.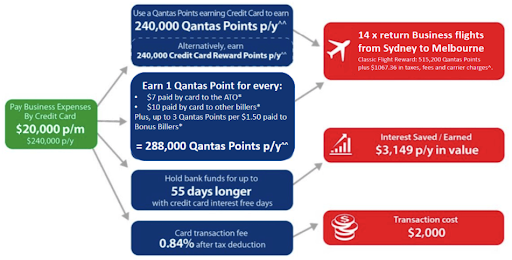 Qantas' new offers are lasting until the end of 2022, however as mentioned in this article it is unlikely that the Classic Reward seats will be available for too long. If you have the points we strongly recommend booking something in and taking advantage of the flexible cancellation and change.
On the other hand if you haven't started collecting points and feel that you have missed your opportunity for a good deal, don't stress. Just follow the steps in this article or get in touch with the B2Bpay team today.