"SMSF Investment Strategies, don't get caught in the middle!"
Free to attend webinar
13 July 2022 at 2.00 pm AEST
21 June 2022
•
1 minute read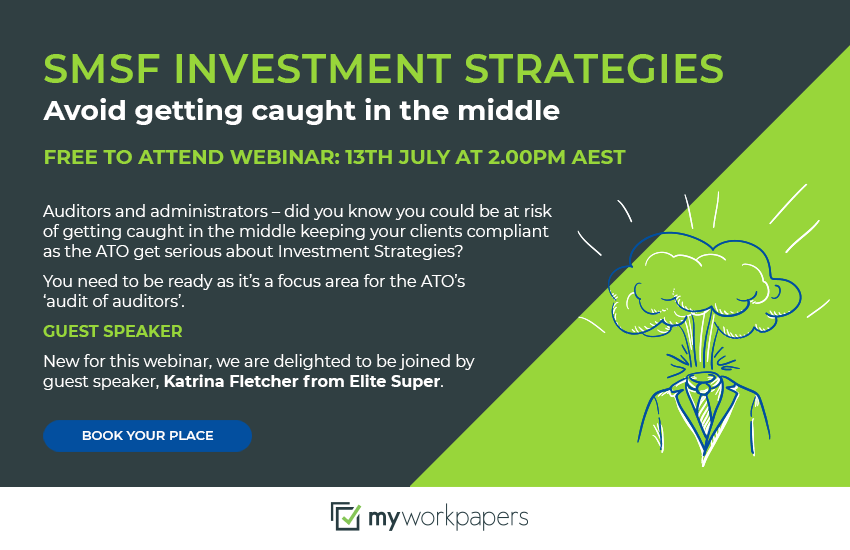 Auditors and administrators – did you know you could be at risk of getting caught in the middle keeping your clients compliant as the ATO get serious about Investment Strategies?
You need to be ready as it's a focus area for the ATO's 'audit of auditors'.
Another chance to join this popular webinar
Such was the popularity of this webinar when we first ran it in May, that we will be revisiting the topic of SMSF Investment Strategies so if you missed out last time, here's your chance to get up to speed with the ATO's latest guidelines.
DATE: Wednesday 13th July 
TIME: 2pm AEST 
VENUE: Online – live from MyWorkpapers, Brisbane
Guest Speaker
New for this webinar, we are delighted to be joined by guest speaker, Katrina Fletcher from Elite Super.
Katrina is the 2021 Auditor of the Year (WIFA) and a thought leader on auditing SMSF Investment Strategies so her insight will be invaluable.
What issues will be covered?
The ATO requires auditors to enforce the standards more strictly than previously and your clients will expect you to help the trustees comply.
Don't shoot the messenger!
To find out more about the ATO guidelines and how they will affect you join MyWorkpapers and our guest experts at our free to attend webinar on 13th July at 2pm AEST.
We will look at:
What's changed in the audit requirements




• The new procedures you need to follow




• How to survive the pushback from clients




• Traps to avoid!
Register today and don't miss out